Web Applications
We provide highly customized web applications, from Stock Management, Accounts, Project Management, Real Estate to HRM, ERP, Dashbards and more.
Domain Registration
Online success starts with a great domain. We make it easy and inexpensive to get the domain you want, fast. We offer all major Top Level Domains (TLDs) and over 25 Country Code Top Level Domains (ccTLDs).
Social Media Marketing
Ensuring your Business reaches out to the public, Facebook? Twitter? Pinterest? Let us take the reins and provide your business with the social media expertise it needs to stand out in today's competitive social landscape.
Web Designing
Exclusive, Bespoked designs to represent your Business or services, We offer a complete website design and development service as per your needs. We provide a cost effective web design solution.
Web Hosting
From the business owner to the individual who desires full functionality on a small budget, Eko Webtech provides your complete web hosting solution.
Quick Contact
Call Us
Call Us at:
Phone : +91-9873889395
Email : info@ekowebtech.com
About Us
Who are we?
We are a Web Design in Delhi, Development and Software company with a passion to help improve your customers experience of your on-line brand with a highest quality web, mobile and interactive designs with usability and accessibility at their core. We offer a consulting service in design and strategy as well as a broad range of online business solutions. We are experts in SEO, Social Media and Online Marketing.
What's our Approach?
EkoWebtech's approach is to combine our understanding of user behaviour with a commitment to meeting the business goals of our clients. We tailor all our services to the specific needs of each client. We take pride in quality of work that we do and like maintain a relationship with our clients long after the work has been completed and handed over. We are proactive in our aftercare service and will alert our customers of any malicious behaviour that we find. We do this because we believe its the right thing to do. Our staff is diverse and talented in all aspects of website technology and marketing, including content creation.
How do we do it?
We use what we call "technical evolution", blended with innovation and creativity to steer the development of your web presence. We use top operational web systems, the best of the best and mould these tools to fit your unique needs. Our rapid development process means we can match your perhaps rapidly changing requirements whether that's new idea you have had or your customers are demanding. You'll benefit with powerful flexible and user friendly technology spun together with EkoWebtech, inspiration and dare we say it perspiration..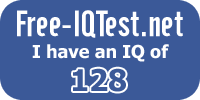 IQ Test